Featured
GDIT Nails Down $4.4 Billion DEOS Contract Win
General Dynamics Information Technology (GDIT) has won the $4.4 billion Defense Enterprise Office Solutions (DEOS) contract that will streamline the Defense Department's (DoD) office applications and move the armed services further into the cloud, the company confirmed today.
GSA TTS Inks CoE Deal With Copyright Office

The General Services Administration's (GSA) Technology Transformation Services (TTS) organization will work with the Library of Congress' U.S. Copyright Office through GSA's Centers of Excellence (CoE) initiative to modernize contact center capabilities and service offerings at the Copyright Office's Office of Public Information and Education (PIO).

Rep. Connolly Shedding no Tears Over OPM-GSA Merger Stand-Down

Rep. Gerry Connolly, D-Va., welcomed news reports today that the Office of Personnel Management (OPM) was ceasing efforts to pursue its proposed merger with the General Services Administration (GSA) – a Trump administration proposal that the congressmen has opposed since it was first floated in 2019.

Feds Warn Hospitals Face Imminent Malware Threat

The Cybersecurity and Infrastructure Security Agency (CISA), the Federal Bureau of Investigation (FBI), and the Department of Health and Human Services (HHS) are warning hospitals and the public health sector at large that they face an "imminent" threat of malware attacks.
Recent News
Data Diversity Challenges Impact Facial Recognition AI Algorithm Biases

While facial recognition technologies offer huge opportunities to Federal agencies, overcoming algorithmic biases with the help of diverse data sets is essential for full deployment, industry experts said Oct. 29 at General Dynamics Information Technology's Women + Technology event produced in association with MeriTalk.

GDIT's Gilliland Counts Empowerment, Communications Among Top Pandemic Lessons

Renewed focus on empowerment, communications, and flexibility are among the top management lessons learned at General Dynamics Information Technology (GDIT) in eight months navigating the coronavirus pandemic, GDIT President Amy Gilliland said this week.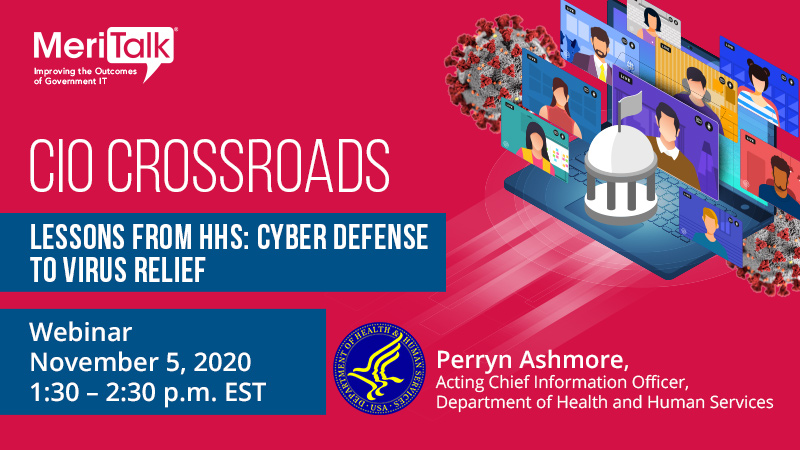 On Thursday, November 5 at 1:30 p.m. EST, join us for a complimentary webinar with Acting CIO Perryn Ashmore to hear about the department's race for resiliency in the face of massive cyberattacks early in the pandemic.